The Sonic The Comic Christmas Story Advent Calendar - Day Eleven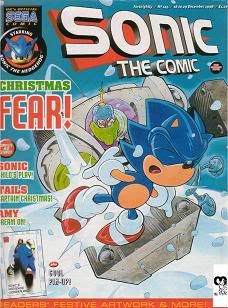 Much like issue 119, STC issue 145 featured a full set of brand new Christmas stories. However, this year, there were only three such stories as, somewhat tragically, the reprint stories had started. We know now in hindsight that this signified the beginning of the end of STC, but the old dog had life in it yet and three new strips per issue wasn't too bad. Unfortunately 145's reprinted strip is Sonic the Human which, as I touched upon in the first post of this series, is absolutely appallingly gashbad.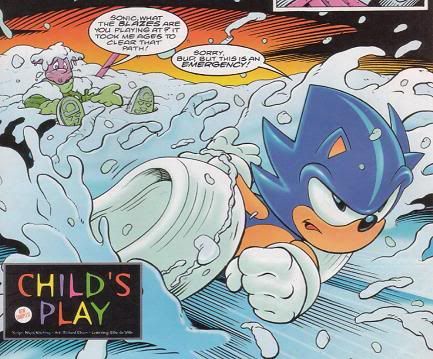 Child's Play
Script by Nigel Kitching, Art by Richard Elson, Lettering by Ellie de'Ville

We open on a snow-covered Emerald Hill Zone. If you think that's a little familiar by now, the caption does inform us that in the Emerald Hill Zone, it's always a white Christmas. One of the Zone's inhabitants is finishing up clearing snow from his yard. Suddenly, a sea of snow washes over him and he looks up to see what kicked it up at him- Sonic running full pelt towards an emergency. Or being a dick, whatever.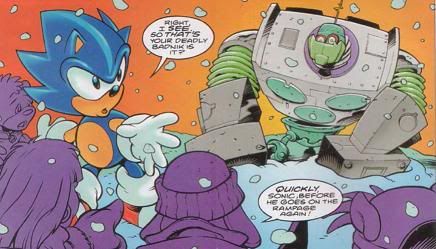 Sonic has been called by a group of kids to fight a deadly Badnik they've found. Sonic eyes up the Badnik and doesn't seem very impressed. It's like no Badnik he's fought before, looking somewhat sloppy in design. The reason for this soon becomes evident- it's being remote controlled by one of the kids, who's apparently built it!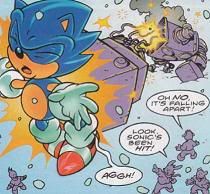 The Badnik is ordered to attack Sonic, but at that moment, the remote short-circuits and the Badnik gains a life of its own. As it pounds its hammer-fists at Sonic, our hero ponders where it came from. The kids worry he may be catching on, just as one of the fists breaks off and whacks into Sonic, sending him flying.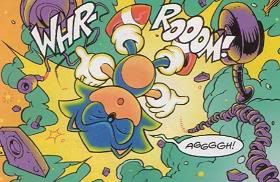 Sonic decides the hunk of junk isn't funny any more and charges at it. Just in time, then, to get caught in the Badnik's explosion as it detonates. The kids do what any child would do when they saw their hero dead by their hands. They freak THE [censored] out. The kids start worrying they'll go to prison but Sonic is listening in and is amused at their reaction. He really is messed up.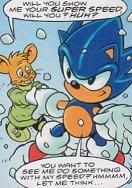 The kids can't believe Sonic fought and beat Robotnik so many times, only to die in such a lame way. Sonic then leaps up and agrees that it would be a pretty rubbish death for him. The kids are overjoyed to see Sonic is unharmed. Sonic asks if this is really the only way they could think of meeting him and the kids explain they're his biggest fans. One of them, a little mouse, asks for a demonstration of Sonic's speed. Sonic thinks and dashes around so quickly he can't be seen.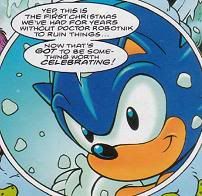 When the snowdust has settled, Sonic has carved out a huge (we're talking double-page spread!) snow playground for the kids, complete with a few carvings of his own image (hey, this is Sonic, after all!). He says it's the least he could do for his biggest fans. He them contemplates the fact that this is the first Christmas he's known in years without Robotnik around in any way. Sonic thinks that, if nothing else, has to be worth celebrating.

I think this is a pretty nice story. It's throwaway, yes, as I alluded to and even a bit cheesy. But it is what it is, a Christmas filler story. It's certainly interesting to see the kids with their own Badnik, I thought that was a cool little idea. The double-page spread is quite nice, too, it was rare we ever saw those. Passable, but I think Nigel actually admitted he wasn't fond of this one.
panicpuppet likes this
eisoptrophobicsmiles likes this
amomentofsonicthecomic posted this