The Sonic The Comic Christmas Story Advent Calendar - Day Three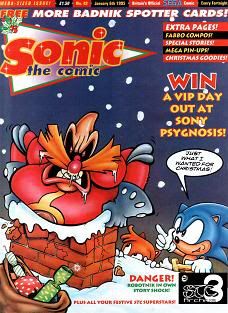 Ice Cap Attack Part Two
First printed in issue 42, cover dated  6 January 1995
Script by Lew Stringer, Art by Mike Hadley & John Burns, Lettering by Steve Potter

Part two starts with our heroes running through the Ice Cap Zone, with Sonic kicking ice in Knuckles face with a smile (whether he's doing it intentionally or not isn't clear). Knuckles says he's found what they're looking for. Sonic can't see anything in the snow, but when his red rival points out an egg-shaped (sigh) igloo, it doesn't take much to work out who built it.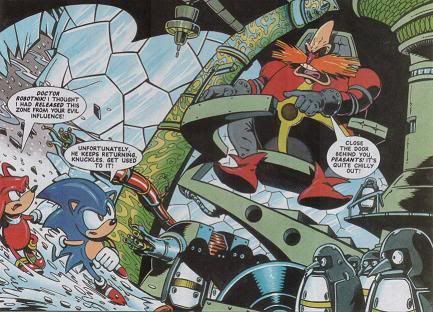 Knuckles offers to dig a tunnel beneath the structure, but Sonic has a faster way and simply runs at top speed into the igloo, [censored]tering its wall. Inside, Robotnik is seated on a throne as an army of Penguinators look on. Knuckles is shocked to see Robotnik back as he thought he'd gotten rid of him. Sonic points out, though, that Knuckles ought to get used to Robotnik always coming back (a brilliant line, I feel).




Robotnik pushes a button on his control console and a beam of light surrounds the two heroes. Robotnik advises Sonic not to try to move lest he be burned alive (though he hopes Sonic will try anyway). Sonic offers sarcastic seasons greetings to the dumpy dictator. Sonic tries to poke a finger through the forcefield but, sure enough, he ends up burning his glove. Knuckles is exasperated at how things have turned out, but Sonic ensures him he'll think of a plan.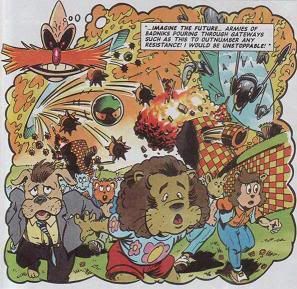 To buy them some time, Sonic tricks Robotnik with the oldest trick in the book- using reverse psychology to force Robotnik into explaining his master plan. Robotnik intends to use the portal to the Emerald Hill Zone as a shortcut to slavery. Knuckles is enraged that Robotnik would use the Ice Cap Zone like this, but Robotnik continues and makes it clear he wants to install his gateways in many Zones so the Emerald Hill Folk would be unable to cope with the influx of Badniks. Sonic says he'll find a way to stop Robotnik, but Knuckles already has the answer.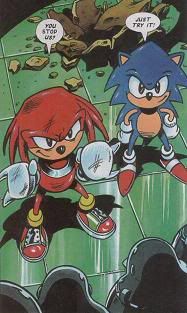 Knuckles digs through the floor, underneath and past the forefield and Sonic lazy-methods his way through the tunnel. Robotnik orders his Badniks to stop them, but the two heroes pose coolly saying that simply isn't going to happen. A page of fighting and banter begins, with Robotnik escaping, but these Badniks have people inside them, so Sonic is forced to let the bad guy go so he can lead his fellow Emerald Hill citizens through the now closing portal.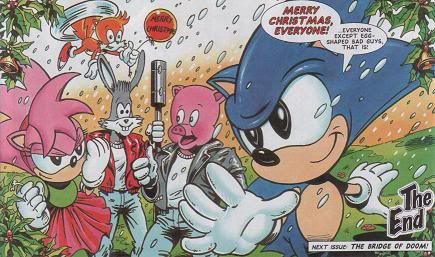 Mission accomplished, Knuckles says the truce is over and Sonic shouldn't trespass on the Floating Island again. As the portal blinks away, Sonic says that suits him and quips that Knuckles won't be joining the Freedom Fighters for Christmas. As Tails, Porker, Johnny and scowly Amy rush over to our blue heroic hedgehog, Sonic assures them the mission went well. But, what's this? Snow fall! Tails is worried Robotnik has created another portal to the Ice Cap Zone as Porker and Johnny look concerned and Amy scowls at the snow. Sonic tells his buddy to relax- it is Christmas, after all. Sonic wishes a merry Christmas to everyone. Everyone except egg-shaped bad guys, that is. Tails has an inexplicable balloon from nowhere, Porker and Johnny exchange happy smiles of relief and Amy stops scowling for half a minute to hold a wishbone and give Sonic come-hither eyes. Next issue is Badniks Bridge. Hooraaaaaaaay.

Elsewhere, SoR continues, Nigel delivers us a Tails Complete Story exploring the fox's backstory (with lovely art by Carl Flint) which leads into some mysterious unseen adventures in the Nameless Zone (Tails is right back in the lead strip next issue), the Carnival Night Conspiracy is revealed to Knuckles, Doctor Robotnik breaks the fourth wall a bit for what is easily the best strip Mark Millar wrote for STC (by virtue of it being really quite good!) and Marko's Magic Football continues with slime creatures everywhere. Another really good issue, then, and it's obvious by now that STC is hitting its stride.

Ice Cap Attack was the end result of some of the big changes that had occurred within STC over the past year. Lew Stringer was now on board and would remain so until the penultimate story arc of the comic. The artists involved were of a much higher calibre than they were a year ago (even the cartoony style on the lead strip works well and Marko's Magic Football has a very suiting art style from Gary Andrews). Knuckles and Amy had debuted, resulting in huge new plot possibilities and, similarly, the animal friends had all evolved into an anthropomorphic, humanoid shape, which meant Johnny and Porker could become larger players in the stories. Sonic 3 was still in the minds of Sega gamers worldwide and Sonic & Knuckles would be around this time, too, so further use of Sonic and Knuckles team-ups would result in some great stories, eventually resulting in Knuckles becoming an auxiliary member of the Freedom Fighters.

Come back tomorrow for a very generic winter story that only sort of qualifies as a Christmas tale!