The Sonic The Comic Christmas Story Advent Calendar - Day Sixteen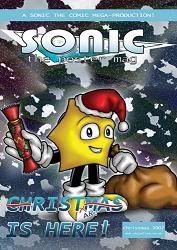 The Night Before Christmas
First published in Sonic The Poster Mag Christmas 2007 edition, uploaded 21 December 2007
Script by Ed Reynolds, Art by Jin Chan Yum Wai, Lettering by Mike Corker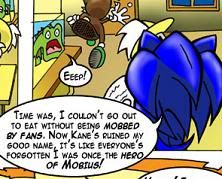 It's Christmas Eve and Sonic is a Buddy's Bistro, waiting for his friends. He's evidently been waiting a while. Big suddenly remembers he had some messages to give Sonic. It turns out that basically none of his friends can make it except Amy, who will be late. Meanwhile, patrons of the restaurant are freaking out because Sonic's here and, of course, he's facing a smear campaign right now. Suddenly, a loud explosion is heard from outside. Sonic decides to check it out.




It turns out it's the Chaotix Crew, making a bodge job of one of their experiments. Charmy, by the way, is hilariously bound and gagged to the Christmas tree. Vector the rappin' croc explains they were trying to reproduce the same sort of space-time manipulation Santa employs but he apparently miscalculated. Espio and Mighty try and convince Sonic he should introduce Santa to them all, but Sonic's not interested in Chaotix's wacky schemes.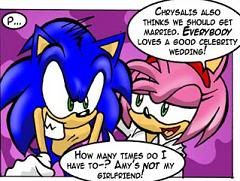 Sonic returns to Buddy's Bistro and finds, to his horror, Amy and Big being attacked by the member of The Family! Sonic Spin Attacks this new terror right in her stupid, stupid face. However, Amy starts freaking out and tells Sonic to calm down- this isn't a member of The Family, she's Amy's friend! She's a design consultant who has come up with a radical (read: awful) image change to ingratiate Sonic to the fans he's lost. Apparently she's also suggested a celebrity wedding of Amy and Sonic because people love a celebrity wedding. Unfortunately, the art doesn't make it clear exactly how much of a joke Amy is having at Sonic's expense here. Regardless, Sonic storms off in a huff and to clear his head from the obscene number of dialogue bubbles floating around this page.





Later, outside, Sonic bumps into Tails, who he jokingly accuses of lazing around. Tails, however, is keeping watch over a peaceful protest at the request of Police Chief Bodger. It seems members of D.R.A.T.* (*Doctor Robotnik Appreciation Tribe. Damn it, sorry, I couldn't help it) think Robotnik's imprisonment is unjust as he is clearly mentally ill. To be fair, they have something resembling a point, even though they're bonkers. Sonic is ready to fight the protesters, but Tails urges him not to bother them as they've been behaving and they have a right to their clearly completely mental opinions. Realising he won't find any here, Sonic whizzes off in search of fun.





Sonic returns to Control Centre to find a print-out from Kintobor, saying he's gone offline to update his system. Sonic decides to check in on Porker and Knuckles. Porker says the only reason they didn't invite Sonic to their party is they thought he'd find it boring. Sonic emphatically agrees. That is, until Knuckles teases him and suggests he's afraid to fight him. Sonic seems excited and ready to hang out with his rival until Porker announces Tikal has fixed the karaoke machine and he and Knuckles both dash off (which is a great non-sequitur gag, I can't imagine for the life of me how Tikal learned to fix a karaoke machine, though I like imagining the ancient echidnae had one). Sonic is now officially alone on Christmas. Too bad he got Johnny killed.




Sonic decides to watch some TV. He channel surfs and sees: a debate about whether or not he's safe to remain on Mobius; weather reports of a huge blizzard coming his way; an advert for a pro-Robotnik biography; a superhero show where a thinly veiled parody of him is attacking; and a consumer interest program about how Sonic merchandise is doing appallingly this year. Sonic turns the TV off and goes to sleep. The last page speaks for itself: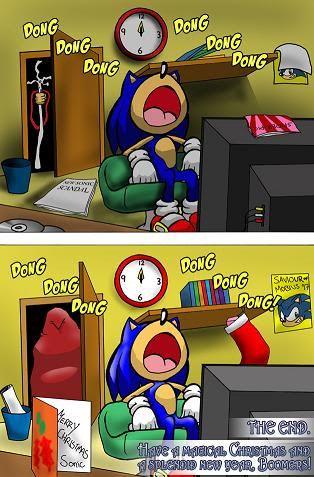 I like this story. There are, however, two details I don't like about it, so I'll go into them here:

I have to be honest, I am not a fan of Chrysalis in most of her appearances. Some of you may remember I liked her more in the single panel in which she appeared in issue 252, where Jamie J gave her a better line than basically anything she'd said up to that point and Phillip Chapman drew her wonderfully- in most of her other appearances, she's fairly annoying with her quips (she reminds me of that friend we all have who thinks they're so witty and hilarious when, really, they're just an arse) and generally drawn like the doodle of a bug we've all done in the margins of our homework. Still, though, new recurring characters are better than relying heavily on old ones so I'll take it!

Secondly, the baddies, The Family and Kane. I just… don't care. I'm really, awfully sorry, guys. That's not to say they haven't been well written. The actual stories they've been involved in have included some brilliant ones, including some STC-O favourites of mine. I just think from a general plot standpoint, they're not particularly interesting (The Family) or believable (Kane). It's interesting, really, The Family is definitely a Stringer-esque clan of villains, whereas Kane is more of a Kitching-esque creation. I do think STC-O is right to use new villains, I absolutely do. The Family is well-written, as I said, it's just they showed up from nowhere and all of a sudden we're meant to be afraid of them- yet they haven't really done anything to earn that. Likewise, Kane leading a smear campaign against Sonic is a brilliant idea, but the problem there is twofold. Firstly, I don't think the story would turn into an arc like it has in the print comic. I'm just not sure it's worth the hassle. I don't see how the end of the arc can be anything other than Sonic clearing his name, putting us back at square one. Secondly, I just can't believe Mobius would fall for it. It's Sonic the [censored]ing Hedgehog. Who is seriously stupid enough to believe the KBC slander? He's saved the planet like a bajillion times, yet all of a sudden Amy is falling for this crap and Tails just plot-conveniently doesn't tell her what's really going on?

Truth be known, I think the real problem is the comic's scheduling. It's so long between issues, it's immensely frustrating people are still falling for it. It can't be helped and I don't hold it against anyone. It's just a shame both this storyline and the Family storyline have been going on forever and, unfortunately, seem to have been pushed aside in favour of random adventures rather than closure.

Regardless, that's my little Christmas moan over! Looking back over these stories, I think it's fair to say some of them are better than I recall. That said, some of them are definitely worse than I remember, so that doesn't do much for the cause. However, my final summation is this: I'm glad STC did Christmas stories, regardless of the quality. At least that meant the occasion could be marked appropriately and, in some cases, even very well.

'Tis the night before Christmas and, all through this thread,
Not a rabbit is stirring, 'cause Johnny's well dead.

Merry Christmas, Boomers.